GDN 2022, Virtual Conference
GDN 2022, Virtual Conference
The 22nd International Conference on Group Decision and Negotiation (GDN 2022) was held virtually from June 12 to 16, 2022. GDN 2022 was the second virtual international conference on group decision and negotiation.
Conference Committees
Honorary Chair
Rudolf Vetschera
General Chairs
Fuad Aleskerov
Adiel Teixeira de Almeida
Liping Fang
Program Chairs
Danielle Costa Morais
Alexander Lepskiy
Program Committee
Melvin F. Shakun
Adiel Teixeira de Almeida
Amer Obeidi
Bilyana Martinovski
Bo Yu
Bogumił Kamiński
Danielle Costa Morais
Ewa Roszkowska
Fran Ackermann
Fuad Aleskerov
Gert-Jan de Vreede
Ginger Ke
Haiyan Xu
Hannu Nurmi
João Clímaco
John Zeleznikow
José Maria Moreno-Jiménez
Keith Hipel
Kevin Li
Liping Fang
Love Ekenberg
Luis Dias
Maisa Mendonça
Marc Kilgour
Mareike Schoop
Masahide Horita
Pascale Zarate
Przemyslaw Szufel
Raimo Hamalainen
Rudolf Vetschera
Rustam Vahidov
Sabine Koeszegi
ShiKui Wu
Tomasz Szapiro
Tomasz Wachowicz
Tung Bui
Yufei Yuan
Jing Ma
Keynote Speakers
Steven Brams, New York University, US
Is There a Better Way to Elect a President?
Luis C. Dias, University of Coimbra, Portugal
What are the priorities? From qualitative assessments by experts and stakeholders to policy priorities
Masahide Horita,  University of Tokyo, Japan
What Makes It Possible to Make Group Decisions?: The Theory and Applications of Meta-Decisions
Mareike Schoop, University of Hohenheim, Germany (2022 INFORMS GDN Section Award Recipient)
Digital Transformation of Negotiations – The Road Goes Ever on and on
Website: http://gdnconference.org/gdn2022/
Proceedings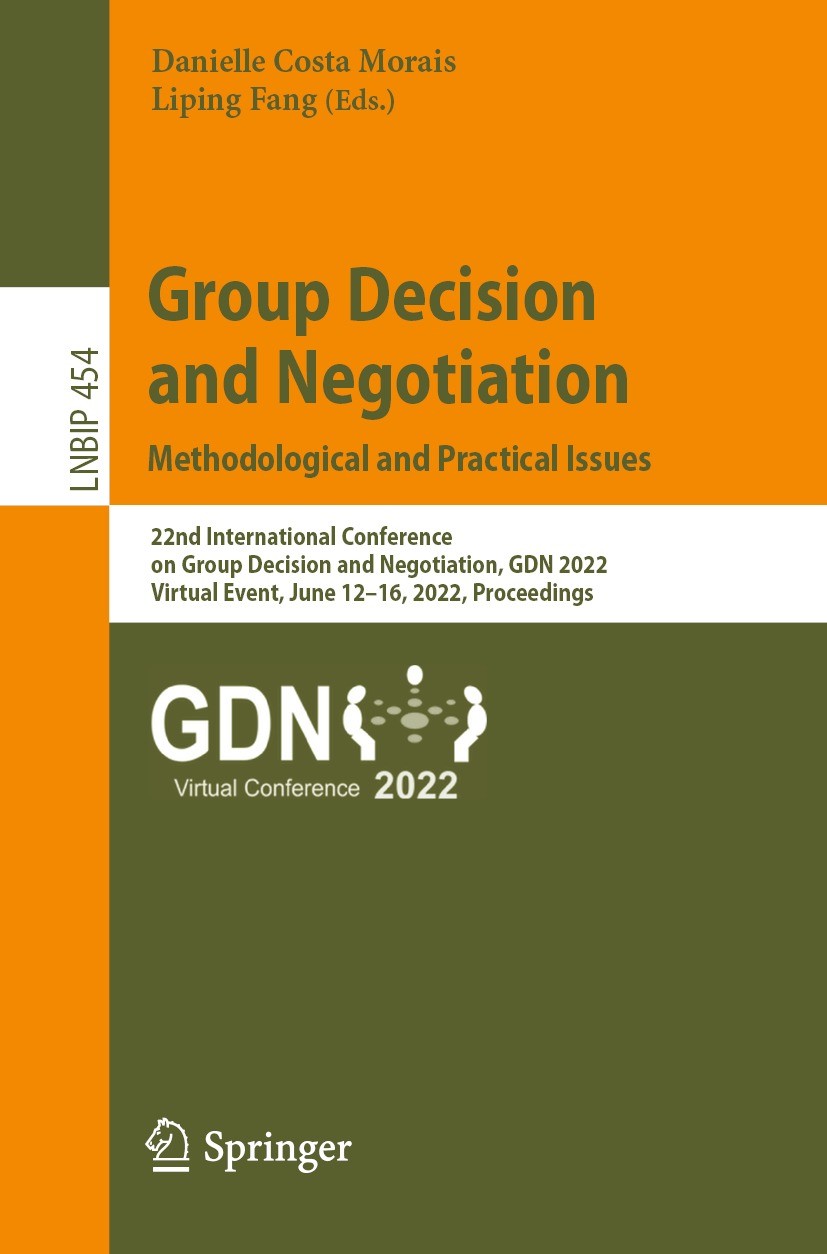 Local Proceedings